The best part about travelling
We all have our own idea and ingredients we think the best part about travelling is made from. Nobody can give an objective answer to this question. For me, it's the departure point. Whether a port, an airport or a train station, the whole hassle that leads up to the departure is my favorite bit.
I can't explain why, but the excitement I feel from the night before when packing my bags, it's mostly driven from the anticipation of getting to the airport. Don't get me wrong, nobody hates standing in lines more than me. Standing in line for security checks or to board the plane, makes me impatient and grumpy.
What I love about airports and terminals in general, is that they indicate the start of my journey. The beginning of a story which I have the control of. For this reason, I always try to make it count.
I usually plan everything in advance. I like getting at the airport with at least 2 hours to spare. I check-in online and drop the bags as early as possible. I love watching people at security checkpoints trying to convince the ground staff that their over 100ml toothpaste is not an explosive device and that a nail file longer than 6cm is not a hijacking weapon, in hopes they'll let them through.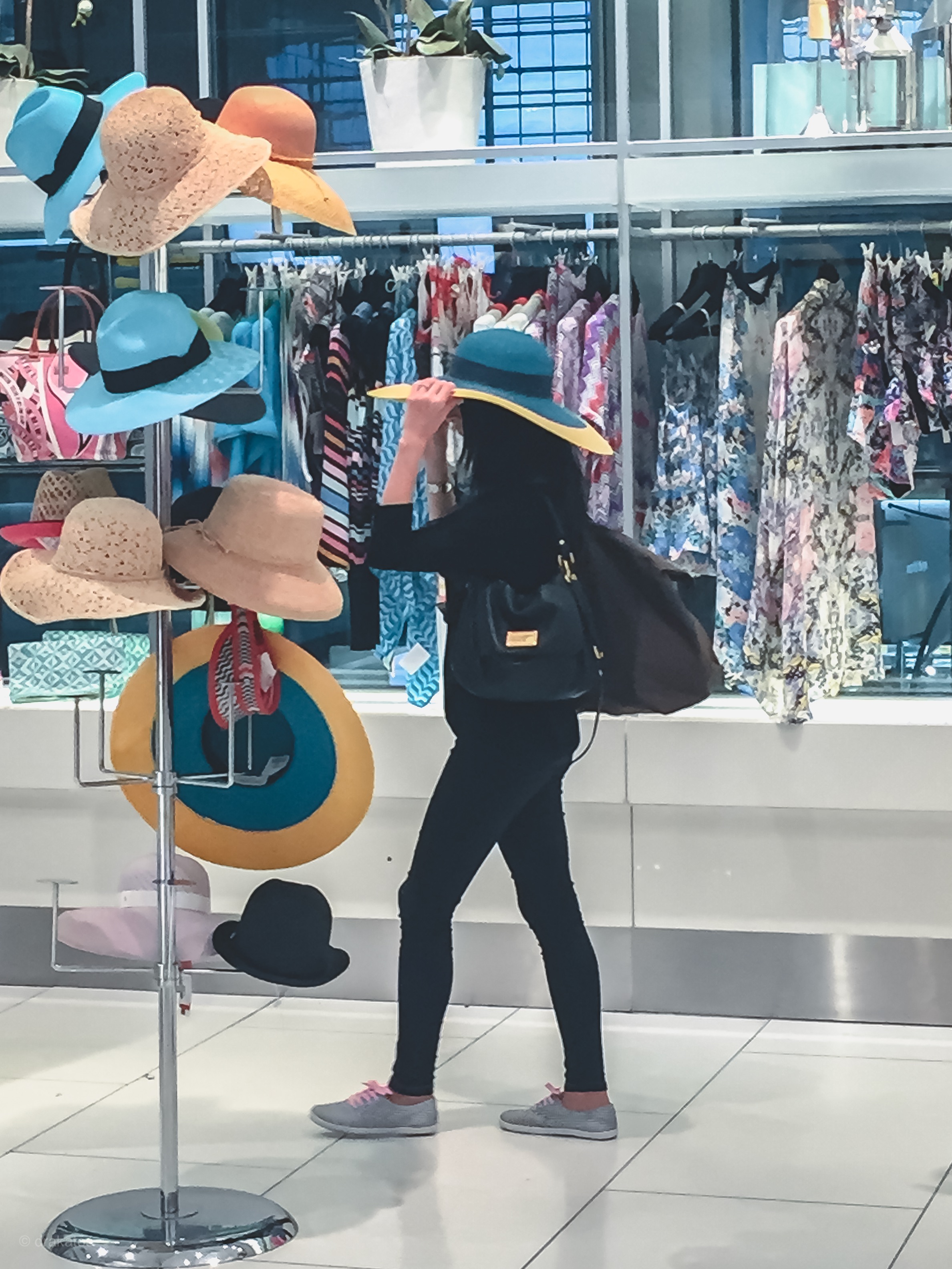 Because you never know when we'll be going to the Wimbledon
Once past security, I get this urgent need for shopping. I never need something in particular, but I love browsing through the shops in hopes I find a deal that is not available online. I'm not an avid shopper and I usually hate shops, but there is something in the departures lounge that makes me want to bargain hunt.
I usually spend most of my time at Dixons, or whichever electronics store there is, while Katerina, my wife, ends up looking for yet another purse, shoes and the occasional hat to wear in case the Queen ever decides to invite us in one of the many Royal outings.
Only then We're ready for some down time. Hitting the airpot bars and pubs is one of my favorite activities. Whether for food or a drink, I always end up in those horrible, yet inviting, places to write or edit photos. There's something in the vibe of those places that brings up my creative side. In a way, I feel inspired. I always think that I'll have enough time to write the script for my next video or edit a day's photoshoot while waiting for my flight.
But my favorite activity of all is people watching. There's nowhere else in the world where you can find so many people from different cultures, countries and continents wondering about together. You get to experience the good and the bad, the usual and unusual under a single roof.
This feeling is gone as soon as I board. The world of weird knives, small and expensive shops, tiny toiletries and awkward massage spots is gone. The return flight is just a week away.
Till next time...